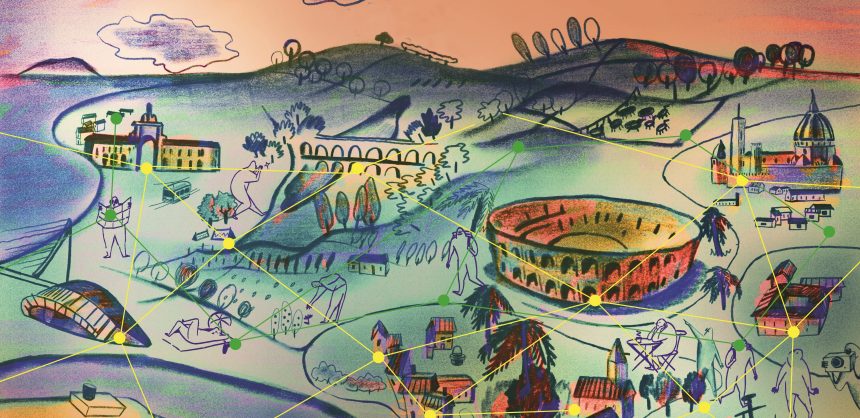 Sustainable tourism in Florence – a panel with local stakeholders

On February the 24th Foundation for Research and Innovation together with Association Per Firenze and the Municipality of Florence (in strict correlation with initiative FeelFlorence), held an online panel with local stakeholders, to discuss tourism's future scenarios and innovation and promote the city beyond the most known areas.
The panel was chaired by Professor Andrea Arnone and moderated by Alessandro Monti, respectively President and Senior Manager of the Foundation of the University of Florence.
The panel was opened by Tourism Assessor Ms. Cecilia Del Re, presenting a recently closed tender promoted by the assessorship to boost up the city of Florence tourism offer, by means of new contents and models. Then some of the winning projects were presented, followed by the introduction of key topics and tools aimed at supporting tourism, such as brand identity and territorial marketing deepened respectively by Professors Silvia Ranfagni and Danio Berti, from University of Florence. Right after that, it was time to introduce Herit-Data project (from the Interreg Med program) thanks to Giulia David from AVITEM, partner of Herit-Data together with Foundation for Research and Innovation, explaining a further tool, the nudging methodology, soon to be tested in Florence area within the foreseen Herit Data project pilot test, in synergy with FeelFlorence initiative, App and Website.
More experiences were then shared during the subsequent open discussion by Municipality of Florence Assessors Tommaso Sacchi, Federico Gianassi and Alessandro Martini. Some Florence President Districts attended the panel too: Serena Perini and Cristiano Balli, together with Tommaso Triberti from Metropolitan City of Florence, all willing to give their contribution to a broader touristic promotion that could include all the districts of the city. Furthermore, Paolo Chiappini from Fondazione Sistema Toscana and Francesco Palumbo from Regional Agency Toscana Promozione Turistica brought their contribution for a future widening of the touristici offer. Lapo Baroncelli (Confidustria Florence), Federico Barraco (Destination Florence Convention & Visitors Bureau), Elisa Guidi (Artex), Giorgio Moretti (Angeli del Bello Foundation), Alessandro Sordi (Nana Bianca) and Giuseppe Salvini (Florence Chamber of Commerce) also gave their contribution in the second part of the panel, about the scenario from their observatories, providing inputs and suggestions.
The panel was the starting point of a territorial process aimed at developing future tourism resilience activities through technologies and methodologies, in a scenario where tradition goes hand in hand with innovation. An interesting first very next step will be the one undertaken thanks to Herit-Data project, which in spring 2021 will bring in Florence a experimentation related to the nudging actions implementation. The nudging process will orient "citizens – tourists" behaviours and choices towards further areas outside the Unesco one. Following the first trial months, the experimentation could be transferred to other pilot areas of the project, but also to the whole Metropolitan area of Florence.
The news was featured in La Repubblica, a national newspaper, in the local section dedicated to Florence coverage.